The Best Ottawa Furnace, Air Conditioning & Heating Service Contractors
Oria Heating And Cooling is your one-stop-shop for all your HVAC installation, repair, and maintenance needs in Ottawa and the surrounding area. Whether you're looking for help with something minor or need an experienced HVAC professional to take on a larger-scale project — we're your go-to pros and we're ready to handle it all for you. Browse through the list of our services below, and get in touch for your estimate on all new installations, repairs, and maintenance for all your HVAC equipment in your Ottawa home.
Installation & Repair
We install & repair all HVAC equipment including central air conditioners, Furnaces, HRVs, humidifiers, hot water tanks, and tankless systems for your home in Ottawa.
Gas
Our team at Oria Heating and Cooling will install gas pipes for BBQs, gas stoves, and for new homes in Ottawa and the surrounding areas.
Maintenance
We offer year-round furnace and air conditioner maintenance for residents in Ottawa and the surrounding areas.
Oria Heating and Cooling
We are a family-owned and operated company serving Ottawa and the surrounding area for the past 20+ years. Our experience, paired with our dedication to quality and over-delivering on our service promise, has established us as one of the best heating, furnace, and air conditioning companies in Ottawa.
Emergency HVAC Services in Ottawa
An HVAC emergency can leave you frustrated and inconvenienced. That is why Oria Heating And Cooling offers 24/7 emergency HVAC repairs in Ottawa. Whatever the make or model of your furnace, air conditioner, or water heater, we have the expertise to handle it. As soon as you realize that there's an issue with any of your HVAC systems, do not hesitate to call us. Our team will reach you, assess your units, and deliver accurate repairs.
If there is ever an untimely breakdown with your furnace, AC, tankless, humidifier, and HRV we will be there for you and your family!
Signs That Show You Need A New Furnace!
Now it's time to put together a checklist to see if your old furnace fits the criteria.
=

Your furnace is too old and has poor efficiency

=

The unit is running with little heating or no heating

=

The pilot light is not lit and needs to be re-lit

=

Furnace ignition is delayed

=

Unit is giving out a bad odour

=

There's a sudden rise in the heating bill

=

The unit requires frequent and expensive repairs
Now that you're aware that you need a new furnace, it's time to call the experts to install you a new one. In the Ottawa area? Call Oria Heating & Cooling today and we'll take care of everything!
Get A Quote On All New HVAC Installations in Ottawa!
Oria Heating And Cooling is Ottawa's one-stop-shop for all of your HVAC needs – including installation, replacement, repair, and maintenance for furnaces, air conditioners, water heaters, air filters, water filters, and gas lines. Whether you're looking for help with something minor or need an experienced professional to take on a larger-scale project — we're your go-to pros for all your HVAC needs. Our team at Oria Heating and Cooling is ready to handle all jobs in a timely and professional manner.
Give us a call or complete the form and we will contact you and provide an estimate for the installation project at hand.
Ottawa Choice Award 2022
Best Air Conditioning Repair
3rd Place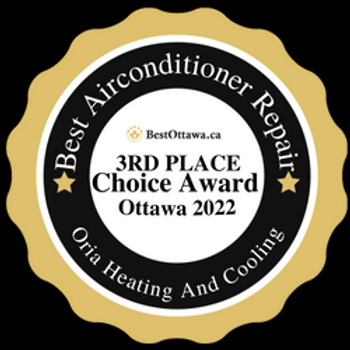 Heating and A/C Repair & Maintenance in Ottawa
Oria Heating and Cooling is your HVAC, water heating, and electrical service specialist in Ottawa and the surrounding area. We represent the comprehensive knowledge that only experiences achieve. Established in 2012, we have earned our spot as the premier provider of residential solutions in Ottawa. Our legacy is built on the proof of our commitment to customers, long-term partnerships, and a determination to evolve, improve and innovate.
The Furnace & Air Conditioner Service Pros in Ottawa, ON
For over 20 years, Oria Heating and Cooling has been providing dependable and professional home furnace and air conditioning services in Ottawa, ON to keep families comfortable year-round. We are passionate about providing knowledgeable and trustworthy services to improve the quality of life and provide peace of mind for residents in Ottawa. As a complete HVAC company, we can offer everything from emergency repairs and preventative maintenance to new installation or replacement of any furnace, air conditioning, water heater, or indoor air quality equipment. 
For energy-saving heat and cooling services from a reputable heating and air conditioning company in Ottawa, contact Oria Heating and Cooling today!
Oria Heating & Cooling
Licensed Goodman Dealer
Testimonials
See What Our Clients in the Ottawa area have to say about us
Audrey Morales
2023-11-24
Professional, responsive, and prompt. I couldn't have asked for better service. Explained the work and how to improve the functioning of my equipment by basic user maintenance as well. Great experience !
I had one of the best experiences with ORIA hearing and cooling. I called in the afternoon when my furnace stopped working and he arrived same day on the evening. Not only did he get my furnace working he also provided some great tips for increasing the life span of my unit. I was extremely satisfied with the service the attention to detail and the price. I will be recommending this company to my family and friends.
Haris Chaudhry
2023-11-19
Our furnace broke down on a weekend evening and I contacted Oria Heating and Cooling. I was thoroughly impressed with the level of service provided by Mansoor. He came to our house within half an hour of making the initial call, diagnosed the issue and was able to get our furnace running the same day. The service was prompt, professional, honest and that too at a very reasonable price! I highly recommend Mansoor for all your heating and cooling needs.
I've used this company several times they get the job done super quick. Jobs are done within the same day.
Haider Al-Rubeii
2023-11-16
I would like to thank the guys that came to my house for a furnace swap I'm very happy and grateful they came the next day because my kids get cold fast and my furnace stopped working. Left the place very clean took very good care of everything. Also I recommend them for all your need A/C Furnace ect.. they gave me a very reasonable price. Thank you Team Oria 🙂
Michael Santos
2023-11-12
Mansoor did a great job of fixing the issue and only charged us the service charge, very honest and nice man, I recommend him to anyone who needs a furnace or any hvac needs.
Victor Chiasson
2023-10-13
Really appreciate the quality of advice, diagnostics, service, installation and product! Thank you Mansoor!
Nancy Chiasson
2023-10-13
It is so rare to find a company of this quality. I would give them 10 stars if I could. They are prompt, professional, tidy, pay attention to details, reasonably priced and their staff is friendly and a pleasure to deal with. Mansoor Nasir is a gem! We love our new Lenox high efficiency furnace and could not be happier. If you are having HVAC problems you want Oria Heating and Cooling. They are the best!
Mansoor from Oria Heating and Cooling provided us with excellent service. We had an issue with our furnace and he was able to diagnose and repair it within a very short time period. He provided us with honest advice and we will be sure to contact him if and when we need to upgrade our system. Highly recommended!
Service Area
Servicing All of Ottawa and the Surrounding Area
Expert Heating & Cooling Service You Can Trust In Ottawa