Air Conditioning Installation in Ottawa
Oria Heating and Cooling
Ottawa Heating Solutions – Air Conditioning Installation
Choosing the right air conditioning solutions is an important thing as there are several different air conditioning systems and ways of delivering this cooling effect in your house or room.
Today, every new air conditioning unit is given an efficiency rating, called a SEER (Seasonal Energy Efficiency Rating), and If your central air conditioning unit is more than 12 years old, replacing it with an ENERGY STAR qualified model could cut your cooling costs by 30%. The most significant aspect in deciding on an air conditioner may be the square footage of the particular space you would like to cool. This is going to directly impact how many BTUs (British Thermal Units) you will need. (BTUs are the unit in which an air conditioner's output is measured. As BTUs increase, so will price and dimension of the system.)
An air conditioning unit that is too small for your room or house will simply not be able to do its job and you will never be satisfied with the room temperature.
There are basically several air conditioning solutions you can choose from:
Central Air

 

– Usually using the furnace's existing duct system to spread the air throughout the house.
Portable air conditioners

 

– the cheap and easy solutions but heavy on electricity, noisy and only good for one room.
Ductless Air Conditioners or Split systems

 

– These are basically units built without ducts and designed to go through a wall, having vents and heat sinks both inside and outside.
A new air conditioning unit could end up saving you up to 50% on your utility bill for cooling. Faulty air conditioning system can be frustrating and annoying at times when summer heat is at its peak.
Early Air Conditioning Deals
Starting from $38/bi-weekly
Energy efficient
14 Sears and up
Beat the heat
Early booking
Air Conditioning Installation
When you are looking for AC installation in Ottawa, you don't want to skimp and let just anyone hook up your new equipment.
That's where the award winning team at Oria Heating and Cooling comes in. Besides the fact we have the skills and endorsements to stand behind our outstanding air conditioning installation, we'll offer you a 100% Satisfaction Guarantee.
5 Signs You Need Air Conditioning Installation
Your air conditioner will start giving you small signs that it's failing. Here are five of the most typical ones.
You regularly need repairs.

 

As your air conditioner ages, its energy efficiency goes down and more prone to breakdowns. If we're regularly at your residence for

 

air conditioning repairs, it might be time for a new air conditioner.
Repairs are more than half the cost of a new air conditioner.

 

Repairs swiftly add up. When they're greater than half the cost of a new air conditioner, it's recommended to replace yours.
Your air conditioner is older than 15 years old.

 

With annual

 

air conditioning maintenance, your cooling system could work for 20 years. However, it's recommended to start prepping for replacement close to the 15-year mark so it's not a shock.
Your air conditioner has R22 refrigerant.

 

If your air conditioner was purchased earlier than 2010, it likely has

 

R22 refrigerant. This refrigerant is discontinued as a result of its damaging effects on the ozone layer. Since R22 has been discontinued, fixing a refrigerant leak would be very expensive.
You want to cut your cooling bills.

 

Installing an ENERGY STAR® air conditioner and pairing it with a

 

smart thermostat

 

is a smart method to conserve on energy bills. Even if you're replacing an air conditioner that's only 10 years old, the Department of Energy says a more efficient air conditioner could save you 20–40% on cooling expenses.
At Oria Heating and Cooling our Experts will partner with you to select the right model for your needs.
We understand that needing a new air conditioner can be a crisis you're not totally financially prepped for. That's why we offer flexible financing. For just one low monthly fee, you'll get a new air conditioner. You won't have to have a down payment, and installation costs, annual maintenance and repairs are all included. Plus, you'll get to keep any valuable manufacturer's rebates.
Should I Service or Get A New Air Conditioner?
While it's tricky to predict when your central air conditioner will stop operating, it will give you several symptoms that you need to get a new one. Although it can be a challenge to predict when your air conditioner will stop operating, if you're aware of what to look out for – your unit will give you several signs and symptoms that you need to install a new one through Oria Heating & Cooling.
Unit Age
AC units typically last about 10–15 years. If your household unit is beyond 15 years old, it has a greater likelihood of needing repairs. You should start to think about buying a new one and educate yourself about new air conditioners right away.
Repeated Service Needs
You should start thinking about air conditioner replacement if you need repairs frequently.
High Cooling Costs
Outdated AC units aren't as efficient. If you don't complete regular air conditioner maintenance, you risk having a system with lower efficiency and a bigger utility expense.
Uneven Airflow
An out-of-date AC unit may run more regularly and have trouble cooling your residence. Modern AC units are engineered to run less often to help you save money on energy costs.
Ottawa Choice Award 2022
Best Air Conditioning Repair
3rd Place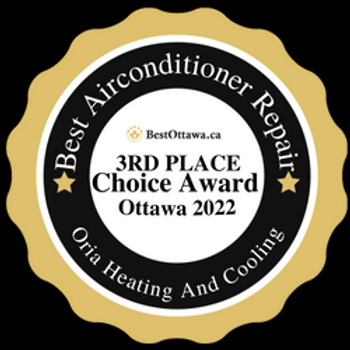 3 Advantages of Installing a Modern Air Conditioner
Today's central air conditioning systems have perks that outdated systems simply can't match. You can feel confident knowing that you'll have equipment that'll run for many years.
A modern AC system can deliver:
1. Enhanced Efficiency
Updated AC systems offer superior efficiency ratings compared to systems from 10–15 years in the past. A new air conditioner could help you save up to 50% on your utility expenses.
2. Nearly Silent Comfort
An up-to-date air conditioner contains state-of-the-art technology to assist in cooling your residence with less disruption. You deserve peace and comfort.
3. Trouble-Free Cooling
The newest AC options ensure your system will work longer and provide air conditioning to the highest standard. When you combine your new AC unit with a service agreement, you'll never forget your yearly air conditioner tune-up appointment again
Oria Heating and Cooling
AC Replacement You Can Rely On
We make air conditioning installation effortless with our skilled team at Oria Heating & Cooling, which includes licensed and certified professionals.
From keeping your garden uncluttered when we're installing equipment to checking up your new unit, you can feel confident knowing our experts won't disregard any steps. We'll share our process with you and confirm you understand tune-up requirements.
Get in touch with us at (613) 866-1869 or contact us online to start your air conditioner installation now. We'll help you select the right solution for your needs and have your air conditioning installed right away.
Get A Quote On All New Air Conditioner Installations in Ottawa!
Oria Heating And Cooling is Ottawa's one-stop-shop for all of your HVAC needs – including installation, replacement, repair, and maintenance for furnaces, air conditioners, water heaters, air filters, water filters, and gas lines. Whether you're looking for help with something minor or need an experienced professional to take on a larger-scale project — we're your go-to pros for all your HVAC needs. Our team at Oria Heating and Cooling is ready to handle all jobs in a timely and professional manner.
Give us a call or complete the form and we will contact you and provide a estimate for the installation project at hand.
Testimonials
See What Our Clients in the Ottawa area have to say about us
Audrey Morales
2023-11-24
Professional, responsive, and prompt. I couldn't have asked for better service. Explained the work and how to improve the functioning of my equipment by basic user maintenance as well. Great experience !
I had one of the best experiences with ORIA hearing and cooling. I called in the afternoon when my furnace stopped working and he arrived same day on the evening. Not only did he get my furnace working he also provided some great tips for increasing the life span of my unit. I was extremely satisfied with the service the attention to detail and the price. I will be recommending this company to my family and friends.
Haris Chaudhry
2023-11-19
Our furnace broke down on a weekend evening and I contacted Oria Heating and Cooling. I was thoroughly impressed with the level of service provided by Mansoor. He came to our house within half an hour of making the initial call, diagnosed the issue and was able to get our furnace running the same day. The service was prompt, professional, honest and that too at a very reasonable price! I highly recommend Mansoor for all your heating and cooling needs.
I've used this company several times they get the job done super quick. Jobs are done within the same day.
Haider Al-Rubeii
2023-11-16
I would like to thank the guys that came to my house for a furnace swap I'm very happy and grateful they came the next day because my kids get cold fast and my furnace stopped working. Left the place very clean took very good care of everything. Also I recommend them for all your need A/C Furnace ect.. they gave me a very reasonable price. Thank you Team Oria 🙂
Michael Santos
2023-11-12
Mansoor did a great job of fixing the issue and only charged us the service charge, very honest and nice man, I recommend him to anyone who needs a furnace or any hvac needs.
Victor Chiasson
2023-10-13
Really appreciate the quality of advice, diagnostics, service, installation and product! Thank you Mansoor!
Nancy Chiasson
2023-10-13
It is so rare to find a company of this quality. I would give them 10 stars if I could. They are prompt, professional, tidy, pay attention to details, reasonably priced and their staff is friendly and a pleasure to deal with. Mansoor Nasir is a gem! We love our new Lenox high efficiency furnace and could not be happier. If you are having HVAC problems you want Oria Heating and Cooling. They are the best!
Mansoor from Oria Heating and Cooling provided us with excellent service. We had an issue with our furnace and he was able to diagnose and repair it within a very short time period. He provided us with honest advice and we will be sure to contact him if and when we need to upgrade our system. Highly recommended!
Expert Heating & Cooling Service You Can Trust In Ottawa