Tankless Hot Water Tank Installation & Repair in Ottawa
Oria Heating and Cooling
Ottawa Heating Solutions – Tankless Hot Water Tank Installations & Repairs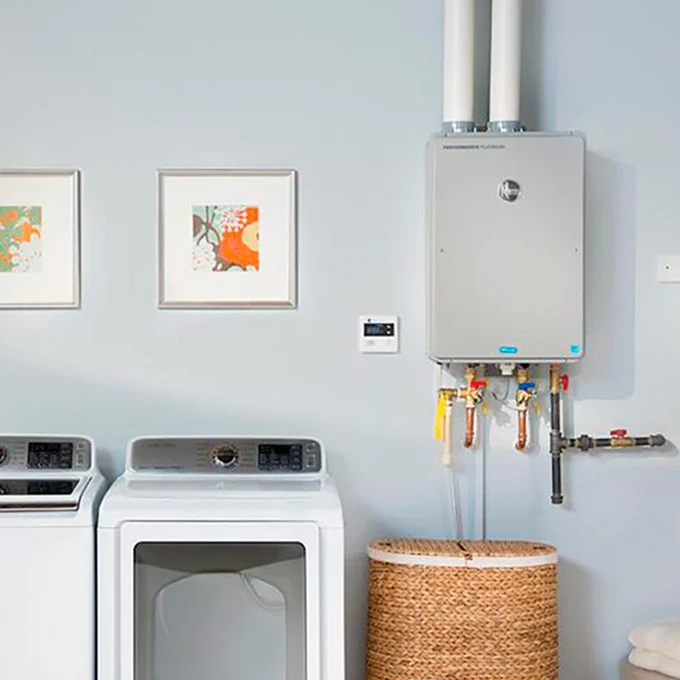 Tankless Hot Water Heater
The Canadian water heater market place has improved significantly throughout the past several years. The marketplace used to be such that all you had to choose from was either to buy a 40 gallon water heater or go for the larger 60 gallon water heater if you had a bigger family and needed abundance of hot water. This is not the case anymore ever since the Tankless water heaters improved and gotten better to a point where they can without a doubt replace the original 40 or 60 water tanks in most homes. Not only that the tankless water heater save you a great deal of space, they also save a lot of money and energy.
Tankless water heaters as the name implies are just that, they do not require a tank of warm water to provide you with an abundance of hot water on demand, they are able to produce an immediate, limitless supply of hot water. No storage or holding reserve means that tankless water heaters have got a life span that's double as long as conventional systems due to the fact of the probability of corrosion and rust is substantially reduced. Electric units raise the temperature of the water as it goes over an electrical element.
How Do Tankless Water Heaters Work?
The truth is, tankless hot water heaters provide unlimited hot water for your home! These state-of-the-art units don't heat water in a tank and let it sit like traditional water heaters, instead they run your home's hot water pipes through a heat exchanger that is located within the small unit. Your water enters at room temperature and exits at your desired heated temperature for your home. These tankless water heaters are a great option for larger households because you don't have to worry about hot water being replenished in a tank. More common than ever, homeowners are switching out their tank water heater for a new tankless water heater. Contact Oria Heating and Cooling today to get your new tankless water heater installed in Ottawa!
2 Kinds of Tankless Water Heating Systems
Electric powered tankless water heater:

 

you will have to have it hardwired to the electrical panel. Even though, electric powered tankless water heaters are much less expensive to buy and run, they usually have got significantly less capacity, which usually makes them less realistic for big families or homes that use up significant quantities of hot water at one time period.
Gas-powered Tankless water heaters:

 

these systems are fueled by propane or natural gas. To run one of these types of models, you'll require a gas line running through your property to wherever the water heater is going to be mounted. It can very easily supply almost endless hot water for a single major use at any time period. This kind of unit is a fantastic alternative for the standard 40-gallon tank water heater.
Hot Water Tanks vs. Tankless Hot Water
Hot Water Tanks
Hot water tanks are a more traditional way of heating your water. They have a limited supply of hot water and take up more space, but they do have a lower upfront cost for those looking for a more cost-effective alternative.
Tankless Hot Water
Tankless heaters have a lot of great advantages over hot water tanks. They take up a lot less space and will provide you with an endless supply of hot water. They even have a longer lifespan. Even though these heaters have a higher upfront cost, they are definitely the smarter investment option.
Why Go Tankless?
Some households install one tankless water heater for single appliances or as an enhancement for solar water heating systems. However, most homes manage all right with an unaccompanied tankless system.
Let's look at a few of the benefits of a tankless system:
N

The majority of tankless heaters keep working for 20 years, about twice as long as a common tank heater.

N

Endless hot water.

N

Better efficiency and no standby energy loss.

N

Compact design that can be put on a wall, in a cupboard, or in a closet.

N

Eliminates the chance of flooding due to a broken tank.
Get A Quote On Tankless Water Heaters Installation & Repair in Ottawa!
Oria Heating And Cooling is Ottawa's one-stop-shop for all of your HVAC needs – including installation, replacement, repair, and maintenance for furnaces, air conditioners, water heaters, air filters, water filters, and gas lines. Whether you're looking for help with something minor or need an experienced professional to take on a larger-scale project — we're your go-to pros for all your HVAC needs. Our team at Oria Heating and Cooling is ready to handle all jobs in a timely and professional manner.
Give us a call or complete the form and we will contact you and provide a free estimate for the installation project at hand.
Testimonials
See What Our Clients in the Ottawa area have to say about us
Audrey Morales
2023-11-24
Professional, responsive, and prompt. I couldn't have asked for better service. Explained the work and how to improve the functioning of my equipment by basic user maintenance as well. Great experience !
I had one of the best experiences with ORIA hearing and cooling. I called in the afternoon when my furnace stopped working and he arrived same day on the evening. Not only did he get my furnace working he also provided some great tips for increasing the life span of my unit. I was extremely satisfied with the service the attention to detail and the price. I will be recommending this company to my family and friends.
Haris Chaudhry
2023-11-19
Our furnace broke down on a weekend evening and I contacted Oria Heating and Cooling. I was thoroughly impressed with the level of service provided by Mansoor. He came to our house within half an hour of making the initial call, diagnosed the issue and was able to get our furnace running the same day. The service was prompt, professional, honest and that too at a very reasonable price! I highly recommend Mansoor for all your heating and cooling needs.
I've used this company several times they get the job done super quick. Jobs are done within the same day.
Haider Al-Rubeii
2023-11-16
I would like to thank the guys that came to my house for a furnace swap I'm very happy and grateful they came the next day because my kids get cold fast and my furnace stopped working. Left the place very clean took very good care of everything. Also I recommend them for all your need A/C Furnace ect.. they gave me a very reasonable price. Thank you Team Oria 🙂
Michael Santos
2023-11-12
Mansoor did a great job of fixing the issue and only charged us the service charge, very honest and nice man, I recommend him to anyone who needs a furnace or any hvac needs.
Victor Chiasson
2023-10-13
Really appreciate the quality of advice, diagnostics, service, installation and product! Thank you Mansoor!
Nancy Chiasson
2023-10-13
It is so rare to find a company of this quality. I would give them 10 stars if I could. They are prompt, professional, tidy, pay attention to details, reasonably priced and their staff is friendly and a pleasure to deal with. Mansoor Nasir is a gem! We love our new Lenox high efficiency furnace and could not be happier. If you are having HVAC problems you want Oria Heating and Cooling. They are the best!
Mansoor from Oria Heating and Cooling provided us with excellent service. We had an issue with our furnace and he was able to diagnose and repair it within a very short time period. He provided us with honest advice and we will be sure to contact him if and when we need to upgrade our system. Highly recommended!
Expert Heating & Cooling Service You Can Trust In Ottawa