Oria Heating and Cooling
The best HVAC service at an affordable price.
Joseph Kim I would give it a higher rating if I could. I have found a reliable and honest HVAC technician in Barrhaven! I am extremely pleased to have dealt with Mansoor, who was punctual, professional, kind and took the necessary time to explain to me the issue with...
Ottawa Choice Award 2022
Best Air Conditioning Repair
3rd Place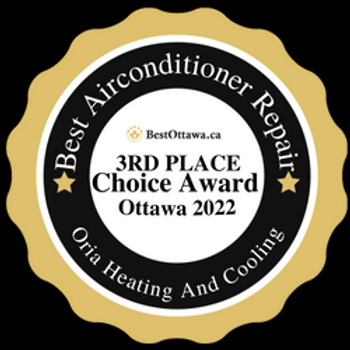 Testimonials
See What Our Clients in the Ottawa area have to say about us
Audrey Morales
2023-11-24
Professional, responsive, and prompt. I couldn't have asked for better service. Explained the work and how to improve the functioning of my equipment by basic user maintenance as well. Great experience !
I had one of the best experiences with ORIA hearing and cooling. I called in the afternoon when my furnace stopped working and he arrived same day on the evening. Not only did he get my furnace working he also provided some great tips for increasing the life span of my unit. I was extremely satisfied with the service the attention to detail and the price. I will be recommending this company to my family and friends.
Haris Chaudhry
2023-11-19
Our furnace broke down on a weekend evening and I contacted Oria Heating and Cooling. I was thoroughly impressed with the level of service provided by Mansoor. He came to our house within half an hour of making the initial call, diagnosed the issue and was able to get our furnace running the same day. The service was prompt, professional, honest and that too at a very reasonable price! I highly recommend Mansoor for all your heating and cooling needs.
I've used this company several times they get the job done super quick. Jobs are done within the same day.
Haider Al-Rubeii
2023-11-16
I would like to thank the guys that came to my house for a furnace swap I'm very happy and grateful they came the next day because my kids get cold fast and my furnace stopped working. Left the place very clean took very good care of everything. Also I recommend them for all your need A/C Furnace ect.. they gave me a very reasonable price. Thank you Team Oria 🙂
Michael Santos
2023-11-12
Mansoor did a great job of fixing the issue and only charged us the service charge, very honest and nice man, I recommend him to anyone who needs a furnace or any hvac needs.
Victor Chiasson
2023-10-13
Really appreciate the quality of advice, diagnostics, service, installation and product! Thank you Mansoor!
Nancy Chiasson
2023-10-13
It is so rare to find a company of this quality. I would give them 10 stars if I could. They are prompt, professional, tidy, pay attention to details, reasonably priced and their staff is friendly and a pleasure to deal with. Mansoor Nasir is a gem! We love our new Lenox high efficiency furnace and could not be happier. If you are having HVAC problems you want Oria Heating and Cooling. They are the best!
Mansoor from Oria Heating and Cooling provided us with excellent service. We had an issue with our furnace and he was able to diagnose and repair it within a very short time period. He provided us with honest advice and we will be sure to contact him if and when we need to upgrade our system. Highly recommended!
Expert Heating & Cooling Service You Can Trust In Ottawa