Oria Heating and Cooling
Worry-Free HVAC Maintenance in Ottawa
Whether you are in the heat of summer or the dead of winter, a well-functioning HVAC system is essential for staying comfortable. Unfortunately, too many homeowners take their HVAC systems for granted, only addressing concerns when something goes wrong. That is a backward approach. It is less cost-effective and can have a big impact on things like utility costs. Proper HVAC maintenance can reduce energy use by 10% to 20%, regardless of the climate zone. Further, improper and poor maintenance can increase energy use by 30% to 60%.
This is a big deal, especially for those looking to cut energy budgets while doing their part to make their heating and cooling system go green. But if you are new to heating and cooling system maintenance, it can be tough to know exactly where to start. 
Get A Free Quote On All New HVAC Installations!
Oria Heating And Cooling is Ottawa's one-stop-shop for all of your HVAC needs – including installation, replacement, repair, and maintenance for furnaces, air conditioners, water heaters, air filters, water filters, and gas lines. Whether you're looking for help with something minor or need an experienced professional to take on a larger-scale project — we're your go-to pros for all your HVAC needs. Our team at Oria Heating and Cooling is ready to handle all jobs in a timely and professional manner.
Give us a call or complete the form and we will contact you and provide a free estimate for the installation project at hand.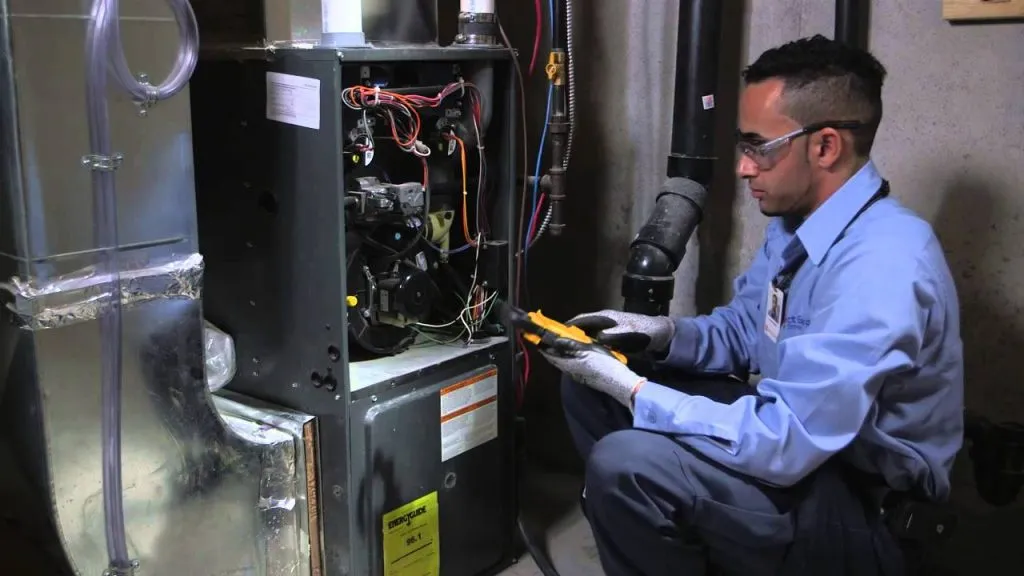 Furnace Maintenance
Wishing to avoid costly furnace problems? Routine maintenance from Oria Heating and Cooling in Ottawa can help. Want lower heating bills without compromising comfort? Regular tune-ups can make your system more efficient. At Oria Heating and Cooling, safety matters and we are committed to following all COVID-19 protocols to keep you, your family and our technicians safe.
A well-maintained furnace can lead to a more relaxing home during frigid winters in Ottawa And routine tune-ups may help your heating system last longer too.
Tune-Ups May Extend Your Furnace's Life Span
With a Precision Tune-Up from Oria Heating and Cooling,  you can get your furnace in prime shape for chilly weather.
During this service, our experts will inspect your system and make sure it's running properly according to our maintenance checklist.
All our professionals are ACE certified. Earning this endorsement—the gold standard in HVAC—means our technicians have gone through rigorous training and testing. They are well-equipped to give you excellent work that we back with our warranty.
We'll Check Important Parts of Your Furnace
Our Experts will check important areas of your heating system during maintenance according to our maintenance checklist. Some of this work includes:
Inspecting and cleaning your furnace's gas burners. Our techs will also examine your heat exchanger for cracks. These cracks can result in dangerous carbon monoxide leaks or a fire.
Monitoring airflow and blower operation to ensure your furnace is working correctly.
Checking the gas valve. This makes sure the precise fuel supply pressure is provided to the furnace, allowing it to run safely.
Examining electrical-powered components for damage or rust.
Use an older furnace? We can look at the pilot light too.
Air Conditioning Maintenance
Routine service from Oria Heating and Cooling could help you prevent costly air conditioner breakdowns in Ottawa. It could also increase the efficiency of your air conditioning system, helping you save money.
A well-maintained cooling system can make your home more comfortable during humid summers in Ottawa. Annual maintenance may help your AC system last longer as well.
Tune-Ups Can Help Your Air Conditioner Last Longer
Get your air conditioner prepared for high temperatures with a Precision Tune-Up from Oria Heating and Cooling. During a tune-up, our professionals will examine your system and make sure it's running properly.
When you select Oria Heating and Cooling, you'll receive quality service from our NATE-certified technicians. Plus, we back their tune-ups with a 100% Satisfaction Guarantee* for a year.
Thinking about a routine membership plan from Oria Heating and Cooling? Consider these outcomes—potentially lower cooling bills and an extended life span for your air conditioning system.
We'll Take a Close Look at Your System
Our Experts will examine and clean essential components of your air conditioner during maintenance. Some of the work during a tune-up includes:
Tightening electrical connections.

 

This ensures your system is cooling safely.
Lubricating parts.

 

When your system isn't lubricated, rubbing from moving parts can cause it to break down more often or more quickly.
Cleaning the condensate drain line.

 

Cleaning this line takes care of mold and clogs, which can cause leaks.
Cleaning the condenser coil and evaporator coil.

 

These coils become dirty over time, reducing airflow and the ability to absorb heat.
Straightening coil fins.

 

Aluminum fins on the coils can bend and decrease airflow.
Examining system controls.

 

This makes sure your system is starting, running and shutting down appropriately.
Between tune-ups, there's some regular maintenance you should be doing yourself.
Change the air filter.

 

We recommend putting in a new air filter every few months. This helps your air conditioner run more efficiently. You may have to replace your filter more frequently if you have pets or someone in your household has allergies.
Remove debris.

 

Leaves, dirt and grass clippings can accumulate on the outside of your system. This can limit capacity and reduce airflow. Shrubs and plants near the unit should be kept trimmed back.
Testimonials
See What Our Clients in the Ottawa area have to say about us
Expert Heating & Cooling Service You Can Trust In Ottawa